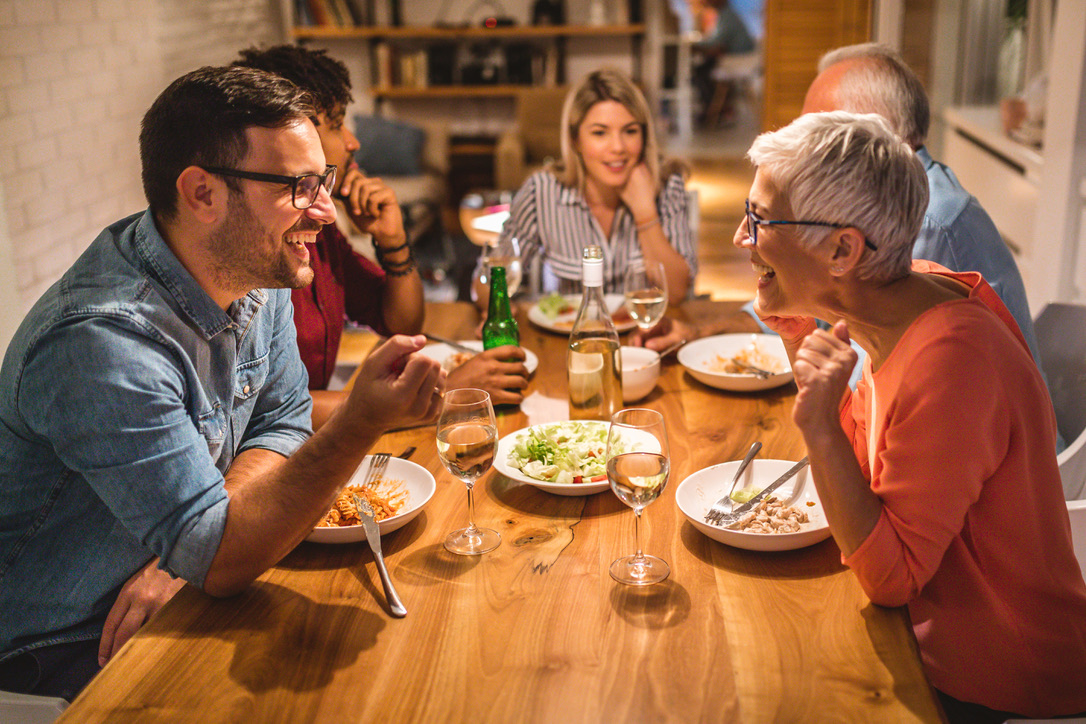 Don't break the Christmas Dinner Rule - how to manage conflict in family business  
---
If you're part of a family business, you should be well versed in the rules and etiquette of the family Christmas dinner table:
#1: No matter how tempting it is to bring up the last quarter's financial results while wrangling over Christmas crackers … don't. Save the serious discussions for when you're back in the office.
#2: Be careful not to criticise the work performance of family members in a social setting.
#3: Accept everyone's little personality traits and quirks and forget the hierarchy. Just because your cousin is the CEO doesn't mean she's in charge of the Christmas dinner menu.
Of course, these rules of engagement are non-exhaustive and vary from family business to business. The risk of talking shop this year, however, is even higher. Stress levels are soaring (thanks Covid-19) and many organisations have battled their way through the last 12 months while bracing for an unpredictable future.
But there's one thing that does remain certain, and that's family.
In the past nine months, thanks to Covid-19, we have gone through business conditions that none of us had ever seen, let alone experienced. In family business, this has undoubtedly put pressure on the entire family and we've all had to rely on each other in ways that we never imagined; our siblings have been working for nothing to keep the company wheels turning, our parents have sacrificed their retirement and a distant relative has joined the business after losing their traditional day job.
We've all had to face so many fears, swallow our pride and call on family in ways like never before. But although it hasn't been smooth sailing, there have been some positives to 2020 – predominantly in the form of strengthened family relationships and better communication. We've seen our family members rise to the challenge, we've been impressed by the leadership shown and the strategic, creative thinking instigated by the pandemic. We've seen it all and it has made us even more proud of each other.
This is what makes the Christmas Dinner Rule even more poignant this year. Everyone is exhausted, everyone has had a tough year and everyone needs a rest.
December is a hectic month even without the disruption of a global pandemic. We're all busy getting orders out, dealing with last-minute demands, juggling various Christmas parties with clients and suppliers and trying to balance workloads and resources over the summer holiday season. Not to mention the family obligations, Christmas shopping and end-of-year events.
This overextension means that, right now, we are vulnerable. And while our family is the most important thing, they can also be the most irritating and have special expertise in winding us up.
I recall one family telling me about their dad – AKA Big Boss Dave – barking orders and to-do lists for the upcoming year throughout Christmas Day. He then proceeded to tear strips off his senior manager son for signing off a bigger-than-expected budget for the company Christmas do.
"A significantly larger team equals a more costly end-of-year function," he said, trying to explain his decision. Dave proceeded to eat his pavlova in stony, uncomfortable silence. You could cut the tension with the turkey knife.
It's a prime example of a family who broke the "Christmas Dinner Rules". Bring up the business and the mood of the table can take an immediate turn for the worse. So, in 2020, let's just relax and give each other a break.
Family Business Central Christmas Do's and Don'ts
Do's
Talk about family and what's going on with them; what the kids are up to, the school reports, sports, interests and the next adventure
Celebrate personal achievements
Keep personal and business conversations completely separate
Be patient, loving and kind. While some family members may bug you – there's a good chance you do the same to them
Put to one side any arguments or disagreements you've endured throughout the year
Thank everyone for their love, support and contribution
Don'ts
Drink too much champagne and say something you will regret later
Take yourself too seriously. Enjoy the day and have some laughs with the people who are closest to you
Forget that family is more important than business
Participate in any heavy discussions about the company. Instead, politely suggest it's postponed until the next workday
Shy away from hugs! A 20-second hug can release endorphins that lower stress levels
Be stubborn. If you need to apologise for something, do so
For more information please contact Philip Pryor at Philip@familybusinesscentral.com, Vivian Crick at vivian@familybusinesscentral.com or Bob Selden at Bob@familybusinesscentral.co.nz